feedback
Kartik Agaram
NewsFlash: a feed-reader for firehose drinkersi
Are you a voracious reader? Do you laugh at people who use bookmarks for their daily news? Do you subscribe to hundreds of feeds?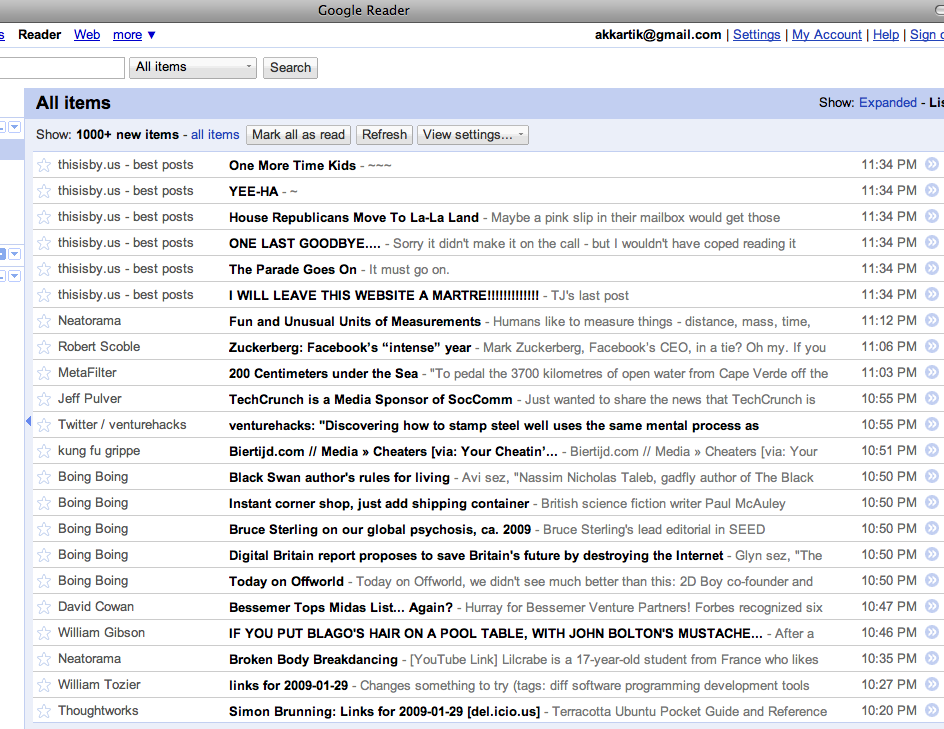 Do you find yourself constantly falling behind on your reading? Struggling to sift through the junk that's found its way in? Wanting a time-out? Coming up with
hacks
to clear your inbox?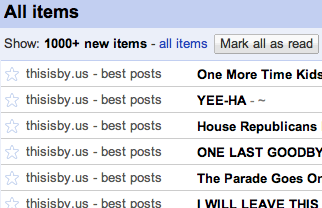 Do you find that you're second-guessing yourself when adding a new feed?
I like this post. I want to subscribe for more great posts.
But will they all be good?
Will he flood my feedreader like Volokh did?
Perhaps I should watch it awhile before adding it.
But d'uh, the feed-reader is how I watch stuff.
Do you worry about missing out on interesting stories?
Whoa, I knew this guy was a keeper. What if it hadn't shown up on Digg? (ugh)
(Ok, maybe you're not as neurotic as me.) Surfing the web should be fun. But small stresses can
add up
. We shouldn't be constantly
nagged
about all the stuff we haven't read yet. We shouldn't worry about some people publishing too often (and neither should they).
The solution: NewsFlash
Features:
Flashcard interface. Read one post at a time. You may spend just a second on it, but focus.
Simple UI. See that large, friendly blue bar on the left? Click to flip to the next post. The rest is up to your browser.

Simple feed management—just a flat list of URLs in a file.
Simple prioritization. Feeds higher up will get higher priority, so add your A-list first.
Fairness for all feeds. The next post will be from a different feed. Always.
Serendipity. You never know what you'll get next. Especially if you insert the word 'RANDOM' after the A-list feeds.
Drowning in junk? Hit reload to go back to your A-list.
Caveats:
You'll need to run rails.
You'll need to crawl your own feeds. This isn't as intimidating as it sounds. Crawling 600 feeds takes an hour, and I run it as a cron job every night.
Sometimes a post will render ugly as hell. (send me patches)
But if you're willing to put up with all that—you'll have
control
! (And a bonus: you'll be able to read your feeds offline.)
Download NewsFlash
---